The program for exporting digital certificate data is a service program intended for exporting public data from digital certificates stored on the smart card or USB key ONE FOR ALL. This program creates a Certificate of authenticity of the digital certificate, which contains all data required to verify the certificate ownership. Present a signed copy of the Certificate of authenticity to the bank, with which you have concluded an agreement on electronic banking.
Insert your smart card into the reader or the USB key into the USB port.
Run the program by clicking Run.
For Mozilla Firefox click Save file and then Run.

For Google Chrome click on the digital certificate export program first (bottom left) and then click Run.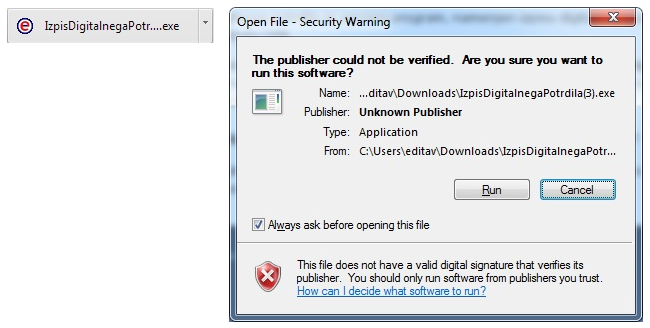 The digital certificate data is displayed as a Notepad file. The printout of the digital certificate must be signed by the holder and sent to the selected e-banking services provider (bank) as soon as possible.